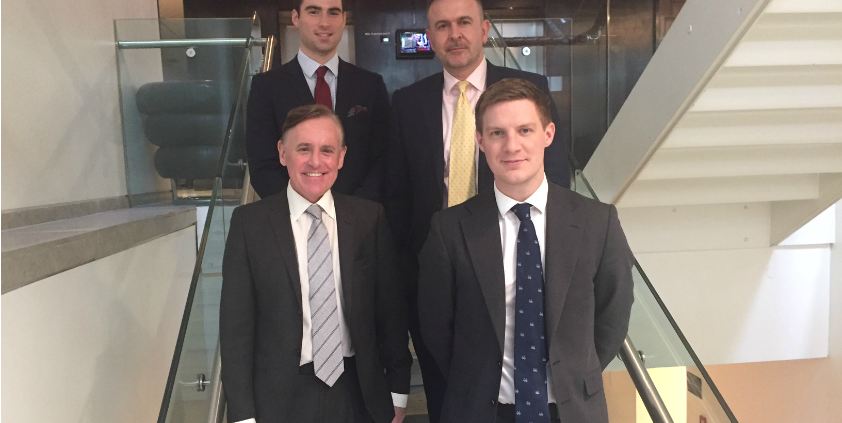 Remarkable Engagement, the public affairs division of comms business Remarkable Group, has hired Instinctif Partners' Robbie McDuff as director to lead its lobbying work, with James Bird and Alex Gray joining in key positions.
MacDuff (pictured bottom left) has some 26 years' lobbying experience in London, Edinburgh and Brussels, and is a former chair of the Association of Professional Political Consultants. His experience includes working with companies such as British Gas, Thames Water, Kingfisher, Prudential, Great North Eastern Railway, Mobil, PwC, and Unison.
He will lead the Remarkable Engagement teams across London, Mancheter, Bristol and Cardiff. He said: "I am delighted to be joining the Remarkable team. With a highly ambitious and dedicated team vastly experienced in, and knowledgeable of, their sectors I am looking forward to developing the public affairs service further, not as a standalone offering but a fully integrated part of a client's communications strategy."
Bird (pictured bottom right) joins as an associate director and will lead the  public affairs unit in the London office. He previously worked for Quatro PR, and ran for Parliament in the 2015 General Election as the Conservative MP for Birmingham Green. Formerly a freelance broadcast journalist, Bird has served as a Birmingham city councillor and was Shadow Cabinet member for Education and Children's Services.
MacDuff and Bird will report directly into Stephen Pomeroy (pictured top right), Remarkable Group CEO, who said: "I couldn't be happier with the calibre of new people we've brought to the company – they each have highly prized experience, vast expertise and a track record of success.
"Robbie is a highly respected figure in the world of public affairs and will be bringing that keen understanding of politics and policy to develop our offering. Public affairs is a key part of any brand's communications strategy, and with Robbie we can offer excellence across the board."
Gray (pictured top left) joins the team as an account manager, and was formerly a town councillor in his home town of Hart, Hampshire.